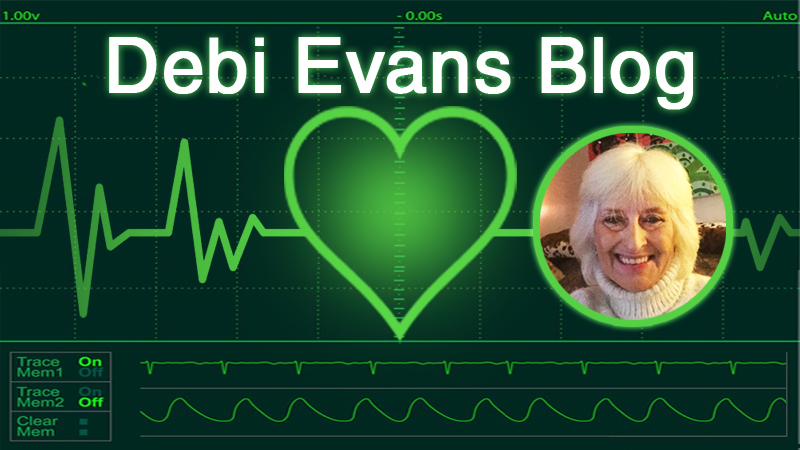 Stand In the Park
Thank you so much to everyone who has e-mailed me with regard to Stand in the Park (ASITP). Many of you are delighted to know that these meetings are still happening. I have received just a couple with concerns over the events, and would urge those with such concerns to take action to try to remediate any differences. These gatherings are incredibly helpful for so many. Meeting people in your local area will be vital moving forward. It is also a great chance to connect with nature and grab some fresh air whilst maintaining your sanity, knowing you are far from alone. 
What will you do if the power grid, communications and information suddenly goes down? Already, the National Grid is offering to pay people to use less electricity. Do you know who you can rely on in the next street for support, if power is down? Should the power grid fail, please remember it will affect all card payments, fuel pumps, transportation networks, and may cause food shortages. You may want to keep your car tank topped up and keep a little cash to hand. For those that cannot survive without a cup of tea, grab yourself a camping stove, some gas and an old-fashioned whistling kettle. And don't forget some treats, too!
It appears a difficult winter lies ahead of us all and that the window of opportunity to meet up may soon be restricted, again. Please do support your Stand in the Park event or Stand in the Pub gathering; you may learn heaps and make friends for life. Do you have an emergency plan? If not, make one.
Extreme Weather and Disasters
Earthquakes, floods, storms, hurricanes and extreme weather have dominated my news feed this week. The blame has been firmly apportioned to climate change, of course; however, as we all know, all is not as it seems. How much of what we are seeing has been engineered using weather modification methods and human interference?
As many know, I keep my eyes on all things solar, space, floods, earthquakes and volcanoes. At 11:11 am on 8 September, a huge 7.2-magnitude earthquake struck near Marrakech. With the death toll rising to over 2,000 and another 2,000 injured (with many more missing), our prayers, love and thoughts go out to all our friends in Morocco. 
Shortly after I heard of this utter devastation, I could not help but research any up and coming plans to turn Marrakech into a 'smart city'. Perhaps there were plans to 'build back better'? Marrakech is a UNESCO world heritage site. 
Sure enough, it didn't take long to find 'Tourism development in the smart city: the case of the city of Marrakech'. It appears Marrakech is getting a total revamp into a full-scale smart city, which will include smart lighting, smart mobility (traffic control and management), electric mobility (EVs complete with lithium-ion batteries), waste management using sensors, smart water (control over supplies, leaks and faults) and security installations, to include a public CCTV system.
In Maui, Hawaii, 66 people are still unaccounted for after the devastation from the 8 August 8wildfires. How many residents of the island will be relieved to know that in Maui, too, there is already a 'smart grid' blueprint? Readers may be interested to read Sasha Latypova's recent blog post entitled, Maui—Plans for a High Tech Prison Island?. And now, as if things couldn't get any worse, Kilauea volcano on Hawaii's Big Island has woken up again. 
In northern China, Tropical Storm Haikui has killed at least two people and displaced thousands through floods. 
In southern Brazil, a tropical cyclone has killed many, whilst others have lost everything.
Hong Kong has suffered disastrous floods after the weather service declared a black rainstorm event—the worst for 140 years. Press reports state that there was no warning and the autonomous government could have done more. Where have we heard that before? Just as well Hong Kong's blue print for a smart city is in place!
In Canada, the wildfires still burn. It has been reported that these wildfires are not going to be extinguished any time soon; in fact, they may still burn into late autumn and on into winter.
In the USA, Hurricane Lee has been upgraded to a Category 5 event and is threatening the east coast. As of the time of typing, no-one knows where or at what time it may make landfall, or what damage may be sustained.
Parts of Greece are underwater after severe flooding. According to reports, some areas resemble one big lake. Reports state that thus far, seven people have died, with another six missing. Many in Thessaly, central Greece, were left clinging to the rooftops of their homes.
With more extreme weather events predicted, it appears things won't calm down anytime soon.
And whilst the millions affected by these disasters struggle just to survive, there is always someone who will profit. This time, it is the insurance companies. Ostensibly because of 'climate change' and the associated 'weather natural disasters' in Europe, insurance policies are set to skyrocket. Whose pocket will it hurt? Yours, of course.
Building Lockdown—Build Back Better, But First: Destroy, Demolish Directly
It appears to me there is more to the faulty concrete agenda in Britain than one may initially think. I have a bit of a theory that I would like to put to all my readers. I may be completely wrong, of course, and I would value comments in the member forums. To be clear, these are just my observations and my opinion.
Reinforced autoclaved aerated concrete (RAAC) has been described as resembling an Aero chocolate bar. It is a bubbly form of concrete which, although it looks like standard concrete, on closer inspection is much weaker. Many public buildings were constructed using it in the 1950s and it was used up until the mid-1990s.
The Government has known about RAAC for decades, so why the panic now—or was it planned? I reported on RAAC in hospitals a year ago and it is not just hospitals that are affected. As we have seen in the news recently, many schools are being closed, as they are now deemed unsafe for pupils and staff. However, look around your area: how many government buildings, high-rise apartment blocks, multi-storey car parks, police stations, civic centres, leisure centres, military barracks, doctor's surgeries, airports, train stations, prisons, courts and bridges were built in the decades when RAAC was in common use? Are we to anticipate a total closure of public buildings that are RAAC-contaminated? I would suggest that this is very possible.
What better way to disperse people than to close places of work? What would be the point on banging on the doors of empty buildings? Will this lead to a planned uprising and civil unrest as people suddenly realise that, yet again, their movements and accessibility to services is severely restricted? Will this lead to military deployments on the streets, to keep us all safe? So many questions, to which I don't have the answers. I guess time will tell.
Have you noticed over the past few decades that all the small schools, cottage hospitals and libraries have all but gone, replaced by these huge brutalist concrete buildings, often in the centre of cities and towns surrounded by traffic and noise? The small hospital that cared for the local community, gone. The small village school, gone. The strategy touted as Build Back Better, it would seem, was not that at all: it was 'build bigger, build quicker, build cheaper'.
As I write this blog, it doesn't take me long to provide you with some evidence that my theory may be worth considering. There are many reasons that the Government can use to close buildings. Check out the following links on RAAC-affected structures: bridges and motorways, schools, public buildings and courts, apartment buildings, hospitals, theatres, airports, concert halls and even Parliament could close just because of RAAC, but that is just the tip of a very big iceberg. Even university accommodation blocks are being evacuated.
It is almost as if the Government didn't want us to enjoy ourselves, travel, or hold anyone to account. Perhaps that is why our local authorities and the NHS are so keen to relocate themselves to the high street. How convenient would that be? I am guessing it would take me about—well, fifteen minutes to cycle to my nearest high street. I need never go outside my local area, everything will be on my doorstep; how 'convenient'. I wonder if multi-storey car parks will be declared affected by RAAC. Where would we park our cars—or is that the point, we can't?
In what other ways can the Government build back better? I was researching the Grenfell Fire Disaster that took place in 2017 (covered at the time by David Scott). Surely, we have had enough time to identify and rectify the cladding on the many buildings that are still at risk and are still fully occupied by residents? Why are people in this country still living in unsafe buildings? We should remember that the Government has been busy selling off assets, many with RAAC-affected structural defects, to private buyers. But who picks up the bill for that? A recent article in the Mail suggests many are literally hostages in their own homes, unable to sell or move. Is this a bigger problem than was originally anticipated? 
A recent survey by EOCS showed that only 21.4 per cent of leaseholders in dangerous blocks have seen remediation work start. For 44.4 per cent, a date has not been identified for work to begin. It means thousands of people are trapped in homes they cannot sell or remortgage.
Is the Great Reset the biggest asset grab in history? It appears I am not alone in thinking this.
What if someone in a high-rise building were to charge their electric scooter in their apartment, or perhaps at ground level beneath the apartments? With so many lithium-ion battery fires, are the public aware of the fire risks when charging EV scooters or bicycles in their homes? Have fire services been consulted or advised with regard to lithium-ion battery fires in high-rise buildings?
Energy Bill—Boiler Bill—German citizens push back and succeed
With Parliament now passing the third reading of the Energy Bill, which will effectively criminalise anyone not compliant in making their home energy efficient, you may be reassured to know that in Germany, although the equivalent 'boiler law' has been passed, it has been significantly watered down as a result of a public backlash. Come on, citizens of the world: if there is an energy law about to be passed in your country, stand up and oppose it. 
E. coli and Electricity
Let's stick with electricity for a minute. I have been keeping my eye on E. coli for a while now. However I did not expect to find this story lurking online. It appears scientists have found a way to generate electricity from the deadly E. coli bacteria. The recent research into wastewater is all starting to make sense now! From what I understand, this involves engineering E. coli into electric microbes using a process called extracellular electron transfer. For the study, please click here. I will be keeping my finger on the E. coli pulse.
Cancer surge in the under-fifties blamed on Western diet and alcohol
Tragically, a new study shows a 79% increase in cancer diagnosis in those aged below 50. Why? Well according to the New York Post, it's a Western diet (high red meat and salt) and alcohol that is to be blamed. However, the youngsters I talk to insist they are eating 'plant-based' foods and don't drink alcohol to excess, if at all. Apparently, it's not the 'fashion' to drink any more. Has anyone thought to read any research into a new phenomenon, 'turbo cancer', which appears to have been detected after the administration of mRNA injections?
Covid–19 'flu' back for 2023
It's official: Covid–19 has returned, dressed up as what I am describing as Covid–23. The Guardian would like you to believe that Covid never went away. It uses emotive, fear-inducing language, such as:
Coronavirus is effectively a fire. Ignoring it doesn't stop the virus—it just lets the damage spread.
As the experts push to make Covid tests an offer that no one can refuse, the fear porn increases. Has no one got the memo that says Covid tests are both ineffective and inaccurate, and has no one read the CDC guidance regarding this new scary variant? I fear not; otherwise, they would see that the only people at so-called 'risk' from BA.2.86 are those who have had Covid and those who have had the vaccine. We know the tests were faulty; therefore, we can never know who had what. We know 'SARS–CoV–2' has never been isolated and we also know 'vaccines' are designed to protect us—aren't they?
Ramping up the fear another notch is Professor Devi Sridhar, known far beyond Scotland as Holyrood's public health celebrity in the past couple of years, who is calling for Covid vaccinations to be extended to everyone and not restricted to the vulnerable and the elderly. If anyone reading this has the stomach for it, her new book, Preventable, is out now. Sorry, Devi, it's not quite to my taste, so I won't be buying it any time soon.
Stories in Brief
NHS drone trial—massive airspace grab
The NHS is carrying out a drone trial that will transport supplies between hospitals. However, the amount of airspace closed will have a massive impact that will ground other aircraft. The trial will take place in Northumberland between February and May 2024. Another way to make air travel even more difficult; what a surprise. Will your home be under a drone flightpath? Check here.
Anorexics as young as 18 could be offered palliative care
Anorexia patients as young as 18 years of age are to be offered palliative care and not life-prolonging treatment under new NHS guidance. Are you as horrified as I am? When did this 'guidance' come into being? The SEED Pathway is perhaps aptly named. Is the NHS seeding young vulnerable patients with food disorders to consider end-of-life care as an alternative? Really?
Victorian disease to make a comeback
Oh, really? Didn't I report on a Victorian disease resurgence just this over a year ago? It appears the mainstream media are starting to catch up. 
NHS Sexual Charter
The NHS has just announced the launch of its 'Sexual Charter' in an attempt to address the increasing number of incidents of sexual misconduct. Am I really reading this right? We didn't need this in the good old days, did we? The website goes on to say;
The NHS staff survey covering all hospitals in England will also now include questions around sexual safety so the health service can monitor progress. 
Does that sound like prying to you? 
iPhone spyware breach
An emergency software update (a patch) has been issued by Apple. A previously unknown vulnerability has allowed Israel's Pegasus spyware (which is being investigated by Members of the European Parliament) remotely and by stealth into many iPhones and iPads. Pegasus is able to read encrypted messages stored on the phone and it can access the camera and microphone remotely. To make matters worse, it can also affect those trying to make payments with Apple Pay. 
Bill Gates invests in beer
Bill Gates has been splashing the cash again: this time, on beer. The Bill and Melinda Gates Foundation flew in like angels of mercy to save troubled company Anheuser-Busch InBev from declining sales, spending a breath taking $95 million on 1.7 million shares.
Freebleeding
Apologies if you are eating. According to the New York Post, Gen Z women are ditching sanitary products in favour of 'freebleeding'. As a baby boomer, I cannot even comprehend such a trend. In my day, periods were not a topic of many conversations, other than with your mum or other women.
President Trump addresses vaccine serious adverse reactions
In conversation with Tudor Dixon, Trump was asked to address the very serious elephant in the room: vaccine serious adverse reactions. But it's a bit late, isn't it Donald? I seem to remember it was on your watch that Operation Warp Speed took place.
Migrants in temporary shelters don't need vaccines
In the USA, it appears that if you are a migrant and living in a temporary shelter, you don't require proof of vaccination to enrol for school. But why, I hear you ask? Communal living, close proximity and often poor ventilation would require even more risk of 'infection', wouldn't it? It seems not.
Fuel price rise
Anyone else noticed a sharp and steady increase in petrol and diesel prices? I have noticed nearly a 15p per litre increase in just a few weeks. None of the mainstream press titles appear to be covering the hike in oil prices and the impending shortages. I wonder why? Could there be no fuel in the pipeline supplying us? Perhaps consider keeping your tank topped up.
Golden Orb
Is it a blob, is it an egg or is it gold? A golden orb found by deep sea divers on the seabed in Alaska is a still a mystery. Whatever this object is, the story appears to be feeding into the 'alien' and UFO agenda. Can you crack the puzzle?
Washing machines that need to know your date of birth
Are consumers not aware of what data is collected and shared by most companies when they buy appliances? Seemingly not. Many privacy statements included in packaging are now foldout affairs, running into thousands of words of small print. The devil is in the detail, and how many of us have read and understood every word? In honesty, I haven't. Washing machines that require your date of birth and televisions that require to know your every move—are you comfortable with that? I'm not.
And Finally
Please do all you can to support your local community in whatever way you can. Perhaps it is standing in your high street with a stall displaying leaflets and banners. Maybe it's a conversation at the school gates, or even a chat with the checkout assistant at the supermarket. The only way to fight back is to speak up, rise up and stand up. We are all accountable and complicit by our 'non-actions'. Word of mouth is powerful.
As I say repeatedly, please don't take mine or anyone else's word for anything. Do your own research, join your own dots and find your own truth. Question everything. Make a plan and make time for nature. Enjoy the end of a UK Indian summer; autumn is closing in. 
Until next week,
God bless,
Debi.
For the LORD knoweth the way of the righteous: but the way of the ungodly shall perish. Psalm 1:6