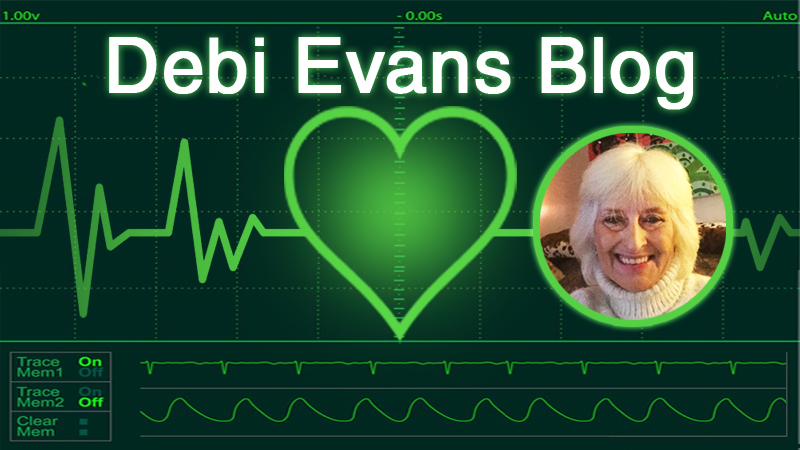 We are living in unprecedented times, of that there is no doubt. Many would say Biblical prophecy is jumping off the page, and I would agree. As the war between Russia and Ukraine rages on, last weekend we woke to the news that
Israel
, after being attacked by Hamas, declared that it was in a state of war.   After Hamas launched a surprise attack while much of the world slept, who knows what the consequences of that action will be? I was very relieved to hear that a couple of my friends who were visiting Israel were safe. However, many others were not as fortunate, as there are many who have been taken hostage, many dead and many more wounded. I cannot begin to imagine the terror and fear. Many innocent civilians on both sides have been killed or injured, and the bloodshed and escalation of events continues. As much of the world erupts into a state of war, it feels as though we are all clinging onto the edge of a precipice.    But it is not just war which is causing so much misery and fear. Whilst our attention may be focused on war torn areas around the world, there are many more suffering, many more displaced, for many other reasons. Our prayers go to them all, regardless of religion, culture or political beliefs.     
Lest we forget
In
Tenerife
, wildfires have reignited and more than 3,000 people have had to evacuate their homes. With wildfires raging all over the planet, a
British satellite
(HotSat–1) nicknamed 'the world's thermometer' has been sending pictures back to earth identifying all the hotspots.   In
Italy
, there are plans to evacuate tens of thousands who live near the supervolcano Campi Flegrei, with multiple craters situated near Naples. With more than 1,100 earthquakes in just a month, the continuing seismic activity is giving concern to the strength of buildings. To put this into context, this is a much bigger volcano than Vesuvius, whose eruption destroyed Pompeii in AD 79.   The 
Greeks
, who have been fighting wildfires all summer, now have a new challenge to face. After the fires came the floods. Storm Daniel caused devastation in early September—one of the fiercest storms Greece had ever seen. More than 3,000 people have been displaced as a result.   In
Afghanistan
,
two powerful 6.3-magnitude earthquakes
destroyed six villages. So far, the death toll exceeds 2,000 with over 9,000 injured. 1,329 homes were destroyed or damaged, and many of the rescuers are using their bare hands to try and find the hundreds still trapped beneath rubble.   In
Japan
, families were told to brace themselves when a tsunami alert was issued after a 6.6 earthquake struck close to the
Izu Islands
.   The misery, sadness and grief radiating around the world is palpable. As the rest of us watch in horror and helplessness, we pray for all those affected. There for the grace of God go we all, but for how long? Have you got an emergency plan? Do you know what to do if the unexpected happens? As billions around the world turn their attention to the geopolitical crisis enveloping our world, let's not take our eyes off the ball with matters closer to home and news that affects our health.  
A spoonful of sugar helps the medicine go down
As many of you will know, one of my biggest concerns is the lack of awareness in the general population of the impact that Big Pharma continues to have on so many lives. I make no apologies for repeating the same mantra in the hope that the message will make people think and question everything more critically.   Medicines are changing. The good old belt-and-braces drugs that we've all become used to are slowly starting to disappear—and some you may not have noticed. Already, we are hearing from many people who are saying their prescription is in
short supply
or not even available. It is unlikely many of these drugs will ever become available in their original form again, but what will they be replaced by and how do we know whether we can trust any of them? With more experimental jabs, monoclonal antibodies and antivirals coming down the pipeline, how are we to know if they are safe? The answer is simple: we don't.   Last week, 
my blog
urged everyone to learn how to
#JustSayNo
and remember how to
#JustWalkAway
. This week, I had the good fortune to
speak
to consultant paediatrician
Dr Ros Jones
about the fast-changing 'immunisation' schedule moving forward for babies and children. Her message was simple: ask questions, do your own research and have the courage to say "no" if your questions haven't been answered to your satisfaction.   Remember to check the patient information leaflets for the active ingredient and adverse effects. If you are considering having a jab or know someone who is, it's unlikely you will be given a patient information leaflet before injection. All patient information leaflets can be found
here
. Please check what solution you will be getting and check online before administration.   As Moderna announce the '
next
generation
' of Covid–19 vaccines and an RSV vaccine, what does that mean in reality to us? The next generation will no longer be required to be kept frozen, and neither will it be distributed in multi-dose vials that require mixing and diluting. Now, a single dose vial will be offered. How convenient.   I also had the opportunity to speak to our friends and experts,
Hedley Rees
and
Cheryl Grainger
, about what is coming down the pharmaceutical pipeline. Will your drugs be made by your bedside, cooked up right in front of you? Sadly, it seems the answer to that is yes. Their message was the same: be brave, stand firm, ask questions and learn to say no. Both interviews will be out soon on the UK Column homepage.   What we can be sure of is that mRNA is here to stay, and while most of us will be aware of mRNA in Covid–19 jabs, many may be surprised to know there are more medical conditions for which the mRNA platform will be used—perhaps including a condition you suffer with already. Would you think to ask whether what
you
are being given is safe? Far from being a bright prospect, mRNA platforms have a very dangerous and dark future. If you are not already mRNA aware, please do your research.   If you are reading this and are worried because you have already had some injections,
don't panic
, but it's best not to have any more. There are plenty of protocols you can get to help detox, and plenty of experts who will be happy to advise you; you just need to look in the right places. Many of the professionals to whom UK Column has spoken have recommended the
FLCCC website
(Front Line Covid–19 Critical Care Alliance) as a good place to start.  
Paying for experimental poison
Next year, thanks to Moderna, a Covid vaccine licence is expected to be updated to allow pharmacies and private clinics to
sell the latest Covid jab
. Stéphane Bancel, the ruthless CEO of Moderna, is in talks with governments around the world. It is worth remembering that Moderna is heavily invested in the manufacturing and distribution of mRNA vaccines in the
UK
. These are already available to purchase in the USA for $120 (£100); as yet, British prices have not been agreed. However, it will be considerably higher than a flu jab—a flu jab privately will set you back between £12 and £20.  
Disease X
What is Disease X? No-one knows. The World Health Organisation says:
Disease X represents the knowledge that a serious international 'epidemic' could be caused by a pathogen currently unknown to cause human disease.
  The term 'Disease X' was
first used
by the
World Health Organisation
in 2018, just one year before the 'Covid–19' pandemic invaded all of our lives. Since then, the WHO has been busy updating its lists of priority diseases.   Is this nomenclature just another way to instil fear into as many of the populous as possible?
Disease X is on its way
—fair enough, but if we don't know what it is, how do we know it's on its way? It makes no sense. Nevertheless, according to the infamous Dame Kate Bingham, head of the UK Vaccine Taskforce
, Disease X could be deadlier than Covid
, and that it could claim 50 million lives. Dame Kate said:
The world will have to prepare for mass vaccination drives and deliver doses in record time. Imagine Disease X is as infectious as measles with the fatality rate of Ebola (67%). Somewhere in the world it's replicating and sooner or later, somebody will start feeling sick.
  It appears the Dame is very excited at the prospect and no doubt relishes the opportunity of playing the role of a
brilliant batty heroine
, again, when she can produce (as if by magic) a brand new jab or 'novel therapeutic' that will be heralded as the next break through miracle cure. Perhaps I could remind Dame Kate that, according to 'official data' in 2020, there was only
one adult death
reported as late effect of measles. What's the panic?   Could it be other 'novel viruses', a bacteria or even a fungus that fulfils the anticipated role of Disease X? One thing is for sure: animals (zoonosis) will be blamed and Dame Kate will likely be smiling all the way to the bank. For those with a strong stomach, her jolly-hockey-sticks lecture at Somerville College, Oxford, is particularly nauseating. However, the good old sales pitch, 'Buy one, get one free', applies—in just one click, you get two 'heroines' for the price of one; Dame Kate Bingham and Dame June Raine in
one video
.   
Inactivate Covid–19 with a matcha latte or green tea
According to 'scientists' from Kyoto Prefectural University of Medicine in Japan,
green tea or a matcha latte
can inactivate Covid. The chemicals bind to the spike protein and stop it from infecting cells.
Seven healthy volunteers consumed either a candy made of different types of tea (matcha, black and green tea) or a placebo. Saliva from participants who had sucked on the sweets was able to effectively inactivate the virus, data showed.
  Who knew it could be that simple? Definitely food—or drink—for thought.  
Andropause
This is the fashionable term for what has earlier been referred to as the 'male menopause'. According to the
NHS
, the term 'male menopause' is misleading. A steady decline of testosterone as men get older will be unlikely to cause any problems in itself, the NHS argues, but a testosterone deficiency later in life, known as late-onset hypogonadism, can sometimes produce symptoms that have nothing to do with hormones. There are many reasons for symptoms that men may suffer from including lack of sleep, anxiety, depression, and the list goes on.    However, it seems that some departments of the NHS don't appear to have received the
memo.
According to an article in the
Daily Telegraph
, Tina Richardson, deputy director of human resources at East Midlands Ambulance Service, says that male workers are eligible for up to a year of paid leave for 'andropause' symptoms, providing occupational sick pay for up to twelve months, depending on length of service.   According to
NHS Employers Guidance
, men are told not to feel embarrassed about suffering 'menopause-like symptoms'—but it seems in the NHS, the right hand has no clue what the left hand is doing. How confident does that make you feel?  
Biometrics
The brave new world comes with brave new biometrics. Let's have a look at a few of the latest news stories. Biometric data involves:
iris recognition scans,
facial recognition,
palmprints,
palm vein scans,
hand geometry,
voice recognition,
gait recognition,
shape of ears,
signature,
and even individual behaviour, referred to as behaviometrics.
  An increase in gang violence involving firearms and explosives has propelled the
Swedish
G
overnment
to expand surveillance cameras, drones and biometric systems. But it isn't just Stockholm that is making plans to watch our every movement.
Project Pegasus
in the UK is well underway. Do you know who is watching you when you're out shopping?  
American Express
is adding
SafeKey
to its products. Facial and fingerprint recognition will now be required for use of its cards online.  
Singapore—drivers have to pay £88,000 to own a car
And we thought we had it bad here in Britain. In
Singapore
, you'll have to cough up an eye watering £88,000 to own a car! That is before you even consider the price of the car and what it will cost to run. Anyone wishing to drive in the city-state needs a 'Certificate of Entitlement' (CoE), but they're in short supply. Singapore has a population of 6,024,475 and only 950,000 CoEs have been made available.  
And Finally
Where there's a will, there's a way. This story made me smile, even though it didn't have the same effect on everyone. To dodge Sadiq Khan's ULEZ charges, a
green Army tank
was filmed speeding through London. Perhaps this is a taste of what's to come?   Congratulations to the latest winner of Miss Portugal,
transgender Marina Machete
, who will now compete for the Miss Universe title in El Salvador. Hope you've marked it in your diary. I haven't.   My film of the week: 
Leave The World Behind
.   Until next week.
  God bless, Debi.   This week, my Bible reference is a whole chapter. It appears
Ezekiel 38
is jumping off the page. Would you agree?