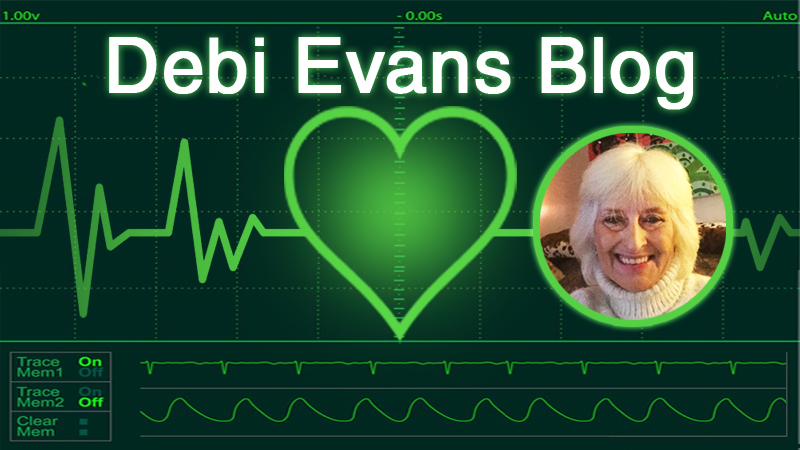 Thank you to everyone who sent messages welcoming my 'call to action' for folk to attend their local Stand in The Park gatherings. When they first began during the first phase of 'Covid–19', many like-minded souls would gather together to introduce themselves and to discuss a way forward, away from the control and tyranny of Governments. SITP is a way to connect with people in your area, swap ideas, exchange contact details and share skills. As many of us suspect, we will likely be experiencing power outages, internet outages and communication failures, along with a disruption to the supply chain, which may make some products unavailable. So who can you turn to for help, advice, support, reassurance or comfort? One thing seems certain, it won't be your global network on Telegram, Facebook or Twitter—it will probably be those determined stalwarts who stand in the park every Sunday, come wind, rain or shine.
A quick shout out to the youngsters who may be reading this. Perhaps you are starting at university and are struggling to find your peer group of like-minded people. It is often hard to settle in a new area and find friends or people on your wave-length. So turning up to your local SITP could do you the world of good. It costs nothing, but the benefits, knowledge, fun and companionship are huge. Everyone is welcome!
This week I interviewed a Consultant Veterinary Surgeon. I was delighted when Vet, Roger Meacock BVSc MRCVS, got in contact with us to raise his concerns over the mRNA injections in humans and its impact and future in the animal kingdom. His open letter to the Veterinary Medicine Directive can be found here. This will be the first interview in what we hope will become a series of interviews in which we can talk about domestic animals and farm animals and how our beloved pets will fare in a 15 minute city. The interview will be publiished on the UK Column homepage soon. 
Hospitals and schools—structural defects
Just as the children return to school, the Department for Education announce that many schools have structural defects and are in danger of collapsing. Chancellor of the Exchequer, Jeremy Hunt, has vowed to make schools safe from crumbling concrete. Yes Jeremy, but how do you plan to do that? Anyone else hear their old mantra, 'Build Back Better'? No one said, 'demolish first'.
We've already heard news that some hospitals are in danger of collapsing. However, this is not new news. With reference to hospitals, regular readers may remember that I reported on 'Operation Rapture' (yes, I did take note of the name) a year ago on UK Column News and in my blog dated 20 September 2022. This is not 'breaking news' as the media would like to have you think.
Operation Rapture is the mass casualty plan should a collapse take place. Why have patients and staff been allowed inside these 'allegedly' dangerous buildings for so long, with no action to remediate it? Why the sudden panic? To entice us into barbers, mosques and other business for health checks and to redirect us to NHS 'hubs' that will no doubt be popping up on High Streets very soon. After all, no one, except those living next door to a big hospital, will be able to access them because nobody will be able to afford to drive. Oh, but isn't that the idea anyway?
Blood donations and blood transfusion
Our blood is a very precious and valuable commodity, not just to us but to others who suffer from blood conditions or need blood transfusions of healthy blood to keep them alive. It isn't just the red 'stuff' that is so precious, it's every component of blood including plasma, platelets and cord blood, rich in stem cells to name but a few, which can all be used for donation. The UK National Blood Transfusion and Transplant Service (UKBTTS) is the service that the UK, NHS and private medicine providers rely on in order to access blood products. There is no other service in the UK, so you get what you are given, should you need it, that applies to private surgery/medicine too, same supplier, you just pay for it, should you go privately.
I get many emails from people asking me if it is safe to have a blood transfusion.
Questions I receive include whether or not it is safe to accept blood from someone who has had a vaccination. Other concerns include whether or not blood is screened for anomalies post Covid–19 injection, and whether this would result in an adverse reaction through donation. I will try to cover this as best I can. The quick answer to both of the above is; firstly, probably not, there is not enough data to be able to give any guarantees of safety. To the second point, no, blood is not screened after Covid–19 injections. If anyone reading knows different, please do let me know. Thanks in advance. 
Once upon a long time ago, I was a blood donor. I gave my blood for two reasons; it is a rare type so I was on an emergency list of donors, and also because I thought I would be helping someone who needed a pint of blood. Unlike other countries, in the UK there is no financial remuneration for blood donations, it is considered a purely 'altruistic' gesture.
Since the start of the 'plandemic', I have had many emails from people worrying about blood donations and indeed receiving blood transfusions. Shortly after the 'Covid–19 vaccines' started to be rolled out, one of my unvaccinated relatives found themselves in the unfortunate position of requiring emergency surgery which would require a blood transfusion. I rang the NHS Blood Transfusion Service to ask if blood was being screened routinely post Covid–19 vaccination. I was told it was not being screened and there would be no guarantee that my relative would receive unvaccinated blood. Shocked, I inquired if the unvaccinated members of our family with the same blood group could donate instead. I was told there was no mechanism in which to do this and that it was not possible. My relative refused emergency surgery and thankfully recovered well after choosing to go down a more holistic path.  
Blood donations have had their fair share of tragedies and scandals over the years. Not least the never ending Contaminated Hepatitis Blood Scandal, for which some victims have been waiting over 5 decades for answers, an apology and financial compensation. Yes, let that sink in, over 50 years. Who has any confidence in any investigation now?
What do you know about blood transfusions and where does your pint of 'liquid gold' end up? To a sick patient,? No, not always. How would you feel if your blood was not suitable for donation (and you weren't notified) and that your blood would be used in other ways?
The UK National Blood Transfusion and Transplant Service (NHSBT) claim to provide a safe, accessible and effective blood service for donors, patients in the UK through the NHS, and private medical providers. The NHSBT provides a booking service, the locations to donate blood and a distribution network to provide the NHS and patients with a 'safe' and consistent supply of blood. Every year the NHSBT collects no less than 2 million voluntary blood donations and distributes them to hospitals throughout England. Or do they? As you may expect, the UKBTTS has its own clinical research department. They claim to "push boundaries and expand medical knowledge". With a world class research and development programme, what could possibly go wrong? Let's dive deeper.
It doesn't take long for the alarm bells to start ringing upon seeing some familiar names when looking at the governance of the UKBTTS. The CEO of NHSBT is Jo Farrar, which begs the question: why would a senior civil servant in the Home Office, responsible for delivering prison, probation and youth custody services in England and Wales, become an 'expert' in blood? Jo Farrar's deputy, Wendy Clark, appears to have a track record in delivering transformation. Wendy has had an interesting employment history, working with BP, Thomson Reuters, Deloitte and AstraZeneca before moving into national security and the NHS. There seems to be a conflict of interest. Why are so many 'security criminal' experts required in the blood business? There are plenty more connections to be found on their Board including; Deloitte, Price Waterhouse Coopers, Barclays UK, and IBM to name but a few.
As I dove further down this very messy rabbit hole, I soon discovered the consent form for those wishing to donate blood. I always genuinely believed that when I donated a pint of blood that it was going to be used to help someone. However, according to the consent form, if for any reason your blood is not deemed suitable for direct transfusion, it can be used, sold and analysed. The form clearly states:
In some cases, we are unable to use your donation for direct transfusion to patients. This may be for a number of reasons including test results, processing issues or information we receive after donation. As part of our commitment to a high-quality service, we sometimes use donations for laboratory work, education, training, research and development, which may include DNA studies and export. Donations may also be used in preparation of healthcare medicinal products, within NHSBT or by other organisations which could be outside the UK. These are essential for patient care.
According to the website, if your blood is used for anything other than direct transfusion, they will obtain 'ethical approval' where appropriate. But who knows what that means. Did you give permission for your blood to be sent abroad, tested on, and used to develop 'products'? Do you know where your generous donation is ending up? No, I don't either.
NHS doctors' strikes
The NHS is already on its knees. Our hospitals are collapsing and staff leaving in their droves. With many off sick, the service is dangerously understaffed. As autumn and winter draw in, it feels as though the patients have been abandoned by those charged with the responsibility for caring for them. In my day, working with sick people was a vocation and an honour, and we all fought for our places at medical and nursing school.
Today it was announced that doctors of all grades including Consultants, were going to walk out, simultaneously, leaving hospitals during the busiest of times forced to operate on a 'Christmas day service'. Do doctors not realise that they themselves have been duped too? Many have been coerced into taking an experimental injection only to find they are too sick to work or have to take early retirement through poor health. We are hearing from doctors who are experiencing huge delays in receiving treatment themselves—the NHS is even turning away its own.
It seems that doctors have misread the room and now the public are losing sympathy for their cause. As a retired vocational nurse, I never supported the nurses' strikes, let alone doctors' strikes. It would have been unthinkable in my day. To my colleagues: There is another way that doesn't require, what appears to me to be a way of, weaponising patients. Find it. Your action is not supported by many of the general public or your colleagues that went before you. As both the Government and medical profession dig their heels in and refuse to negotiate, the future for patients looks grim. But the patient must always come first. Do No Harm.
NHS real experiences
I asked if anyone could be kind enough and send me any good experiences they've had with the NHS in recent years, but so far, I haven't received any. Sadly, the horror stories keep coming in. 
One email this week was from a lady who recently lost her elderly mother-in-law, Brenda. The standard of treatment that Brenda received was both appalling and, in my opinion, very dangerous. Brenda was receiving immunotherapy for terminal cancer. Arriving to pick her up for an appointment, a new style ambulance turned up. Upon arrival to the hospital, the driver refused to lower the ramp (despite repeated requests for the ramp to be lowered in order for Brenda to disembark safely). This resulted in her having to walk down a step backwards, resulting in her stumbling and landing awkwardly. On further examination, a spiral fracture of her femur was revealed as a result of the fall Brenda had while exiting the ambulance.
The email goes on to state that, after undergoing surgery, Brenda was finally discharged 10 days later. However, her relatives describe the care as pretty much non-existent. Brenda was left in bed in soiled sheets, hallucinating and being fed a cocktail of drugs. When Brenda finally arrived home, she had lost all confidence in herself, her motivation had disappeared, and she could no longer walk.
Two weeks ago, Brenda was admitted to her local hospital, where her relatives state:
She had absolutely no care. No one helped her get in and out of bed. No help to go to the toilet, which led them to just leaving her in the bed, where she lost muscle power in her legs. No care was given during the night either, no one came to answer the bells. Because she's a proud lady she tried to get out of bed to go to the toilet by herself, which led her to fall and hurt her shoulder. She was left on the floor until they came, but it took the other patients to ring the buzzer before someone attended. No x-rays were given, they just left her to decline. A family member spent the night with her, sitting in an upright chair as no staff were available to sit with her. When she was discharged, no one mentioned a fall. She was basically sent home to die. We tried to care for her, it was overwhelming for my father-in-law. She was sent to Sue Ryder Hospice and passed away on Monday 28 August 2023. This is just a short outline, there is much more. She endured a horrific experience under NHS Care.
Brenda's relative went on to say that her mother-in-law was triple jabbed with the Pfizer Covid–19 'vaccine' and was diagnosed with cancer shortly after.
Our sincere condolences to Brenda's family, and a huge thank you for taking time to share Brenda's life and tragic death, whilst still grieving.
Sadly, this is not an isolated case, where loved ones are described by relatives as being 'abused' in the very system that is meant to be caring for them. Dignity and respect is a basic human right. Caring for those who are nearing the end of their lives is a privilege, an honour and a huge responsibility, not just in terms of patient care, but for their families and loved ones too.
Death is not an isolated experience, it impacts many. What have we come to if we can't care for those who have cared for us? After all, everyone is someone's father, mother, brother, sister, daughter or son. It would never have happened on my watch.
Other stories in brief
 
Nurse arrested
Rest assured, I still very much have my finger on the Lucy Letby case. It appears we have a sudden surge in baby deaths. The Daily Mail have reported a nurse being arrested on suspicion of poisoning. It is said that three sudden and unexpected baby death reports have been handed to the police. However, the nurse has only been arrested for one death. And what is a sudden death in premature neonates? And what was the poison?
Flu and Covid–19 vaccines to be brought forward
Roll up, roll up your sleeve, there are more jabs to keep you safe this winter. Sir Stephen Powis, NHS England Medical Director, said that "Vaccinations are our best defence against flu and Covid–19 ahead of what could be a very challenging winter." Hence jabs have now been brought forward to 18 September 2023.
It should be noted, however, that it appears there is little or no safety data on the concomitant administration of both flu and Covid jabs together. According to the CDC, unless you have had Covid–19 or the Covid–19 vaccination you were not at high risk of infection, see UK Column News for details. This is very strange. I thought those who had been vaccinated were meant to be protected? And those who have had the alleged 'Covid–19 virus' should have natural immunity? Right? As to the reliability or even the need for a 'test', let's save that for another blog!
Cash for Covid
GP's have been offered more incentives to jab as many elderly patients as they can. As well as the £7.45 that GP's can already claim for each vaccination, they will now receive a bonus of £5 for each jab given. For care home residents or those who require a vaccinator to visit them, will receive an additional £10 on top of the £10 they already receive, but only if the jabs are given between 11 September (9/11) and 22 October. Care homes also stand to gain as a fully vaccinated residency earns them a 'one off completion payment' of £200.  
Long Covid brain fog may be caused by blood clots
Is anyone else seeing a resemblance between alleged symptoms of Long Covid becoming increasingly longer? It pretty much duplicates the most serious adverse reactions being reported after the Covid–19 injection—though doctors, scientists and researchers don't appear to want to join those dots. Many may recall the interview with Professor Christian Peronne and Dr Anne Marie Yim regarding early D.Dimer tests to detect for early signs of blood clots that appear to be raised after administration of the 'vaccine':
Dr Ochs has found interesting results: that people who have been vaccinated have a very high level of D-dimers [proteins in blood tests indicating a clotting process], and a lot of physicians have been reporting blood clots forming with AstraZeneca.
The interview and transcript can be found here:
The Royal Medal 
As if a couple of knighthoods wasn't enough, Sir Christopher Whitty and Sir Patrick Vallance have received yet another 'honour'. This time, both have been awarded the Royal Medal. I can think of a few things they could share. A room perhaps at His Majesty's Government's pleasure.
Twitter/X
It appears Twitter, aka 'X', can now harvest your biometric information! Did anyone else notice that they quietly changed their 'terms and conditions'? The privacy policy now states that X has permission to harvest your fingerprints, retinal scans, voice and face recognition! Some may have noticed, since Twitter became 'X', I tweeted off.
And finally
As dark as the world gets, as crazy as it seems, remember you are not alone and every second that goes by, more and more are becoming aware of the truth and what is happening. Please do your own research. Stand in the park, get to know like-minded folk in your area and prepare for what may be a difficult winter ahead. And always remember, have no fear.
My book of the week; Journey of Souls, Michael Newton PhD.
Until next week.
God Bless,
Debi.
16 They shall hunger no more, neither thirst anymore; neither shall the sun light on them, nor any heat.17 For the Lamb which is in the midst of the throne shall feed them, and shall lead them unto living fountains of waters: and God shall wipe away all tears from their eyes.
Revelation 7:16–17 KJV